---
The Rotary Cutter RC is designed for the precise cutting of hoses and profiles made of rubber or plastic up to a maximum diameter of 100 mm and at line speeds of up to 300 m/min. A clean cut quality and minimized length tolerances characterize our rotary cutter.
Maschinenbau Bardowick GmbH (formerly DCM Maschinenbau GmbH Lüneburg) has been a leading manufacturer in the field of extrusion downstream equipment for decades. Customer-specific special solutions are developed and implemented by us.
The advantages of the Rotation Cutter RC
Optimized cutting length tolerances through specially developed cam profile application
Servo controller of the latest generation
Low space requirement due to compact design
High effectiveness with simple operation
The Rotation Cutter RC at a glance
A cut-to-length system with the highest quality
The rotary cut-to-length RC machine meets your high quality requirements in many aspects.
In combination with our caterpillar BP, a commissioning unit or a winder, you receive a complete system from one source.
Overview of the Features
By means of the cam profile application developed in our company, the motion profile of the cutting knife is continuously calculated and adjusted to the product speed,
The optimal cutting speed for the product can be selected independently of the product speed.
Blades can be changed quickly and safely.
The base frame is a robust, powder-coated welded construction manufactured in-house.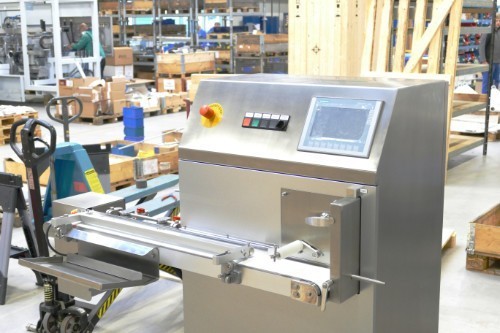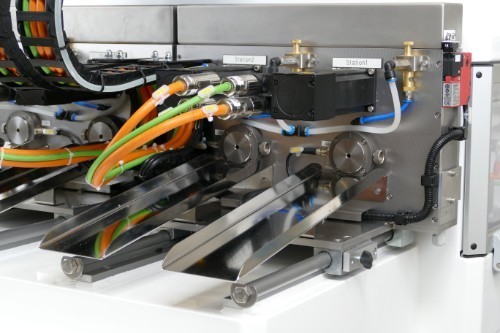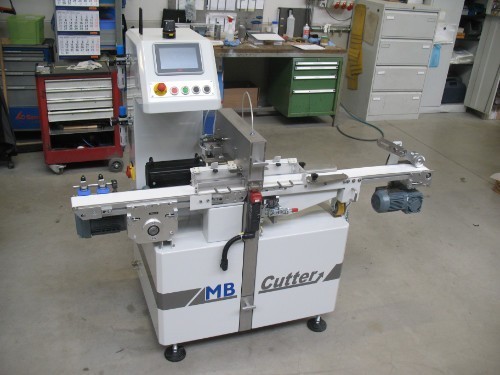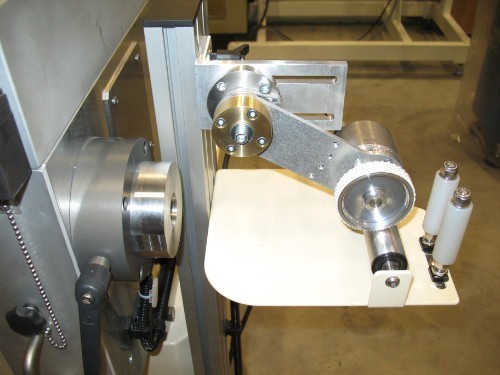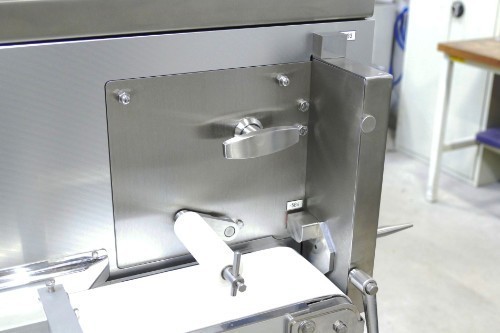 Many Individual Extensions
We adapt each rotary cutting system to your individual process engineering requirements. Possible options are e.g:
Wet-cut design by means of dosable drops or spray lubrication to prevent product build-up on the blade
Individual adaptation of the cutting bushes according to the product profile
Use of various blade systems, perfectly suited to the application
Integration of the cut-to-length machine into a higher-level line control system with all common industrial bus systems
There is a wealth of experience in FDA-compliant design for the pharmaceutical and medical technology sector.
The following order picking or conveyor systems tailored to your specific demands
Technical data of the Rotation Cutter RC (extract)
RC-15
RC-40
RC-80
RC-100
Max. dimension of the product
Ø 15 mm
Ø 39 mm
Ø 79 mm
Ø 99 mm
Max. cutting frequency by one knife
3.200 1/min
Solution of the cutting length
0,1 mm
Motor
Servo direct drive
Power
0,9 kW
3,2 kW
5 kW
7 kW
Dimension (L x H x B)
760 x 1600 x 850 mm
680 x 1500 x 750 mm
1400 x 1480 x 810 mm
1400 x 1480 x 810 mm
Weight
ca. 300 kg
Option: User administration
X
Option: Recipe administration
X
Option: Integration in a higher-level line control
X
All machines from Maschinenbau Bardowick GmbH comply with the EC Machinery Directive (2006/42/EC).
Request your new Rotation Cutter RC now
Request your new rotation cutter RC now!
At Maschinenbau Bardowick GmbH, your specialized manufacturer for extrusion downstream equipment, you will receive the best technical advice for your application.
Benefit from 25 years of experience in the design of extrusion downstream equipment for the rubber and plastics industry!
We will be pleased to consult you! Send us your inquiry to sales@mb-bardowick.de or call us directly: +49 4131 6033-33!