---
The combined cutting machine CC is designed for the precise cutting of hoses and profiles made of rubber or plastic up to a maximum diameter of 100 mm and at line speeds of up to 300 m/min. A clean cut quality and minimized length tolerances are the hallmarks of our combined cutting system.
Maschinenbau Bardowick GmbH (formerly DCM Maschinenbau GmbH Lüneburg) has been a leading manufacturer in the field of extrusion downstream equipment for decades. Customer-specific special solutions are developed and implemented by us.
The advantages of the Combi Cutter CC
Low space requirement through combination of the caterpillar BP and the rotary cutter RC
Precise transport speed due to servo axes of the latest generation
Optimized cutting length tolerances through specially developed cam application
High effectiveness with simple operation
The Combi Cutter CC at a glance
A cut-to-length system with the highest quality
The combination of caterpillar BP and rotary cutter RC meets your high quality requirements in many ways. Perfectly matched systems, which are also adapted to the specific process engineering requirements, guarantee a high cutting quality and length tolerance.
In combination with our non-contact loop control, an automatic commissioning unit or a winder, you receive a complete system from one source.
Overview of the Features
By means of the cam profile application developed in our company, the motion profile of the cutting knife is continuously calculated and adjusted to the product speed.
The optimal cutting speed for the product can be selected independently of the product speed.
A quick-change system is used for quick replacement of the drive belts.
A robust, powder-coated machine frame (welded construction), manufactured in-house, is used as the base frame.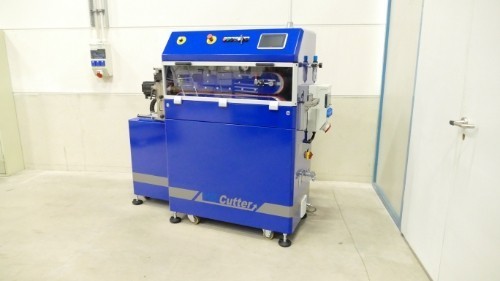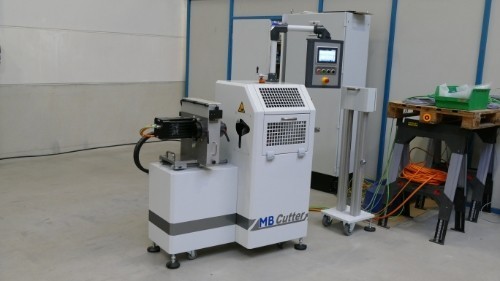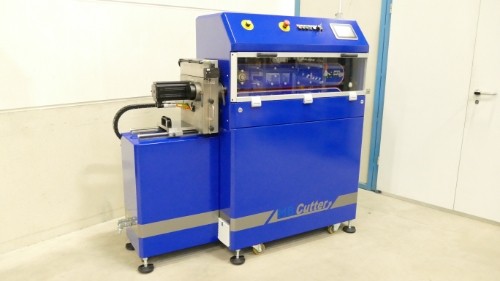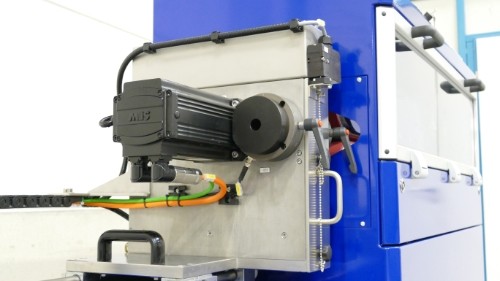 Many Individual Extensions
Since the process engineering conditions vary from customer to customer, we customize each combi-cutting system to your individual requirements. Possible options are e.g:
Loop control, contactless on request to ensure tension-free product feeding
Individual adaptation of the cutting bushes depending on the application
Fast, tool-less changeover from machine feet to transport rollers for transporting the machine within the production
The gap adjustment in the conveyor take-off is manual or electrical
Pneumatic quick opening of the caterpillars simplifies handling when inserting the product.
Use of various blade systems, perfectly suited to the specific task
A wide variety of sensors can be integrated into the machine to detect different product features (diameter, ovality, colour coding)
Integration of the combination cutting machines into a higher-level line control system with all common industrial bus systems
There is a wide range of experience in FDA-compliant design for the pharmaceutical and medical technology sector.
Technical data of the Combi Cutter CC (extract)
CC-250/40
CC-600/40
CC-600/80
Contact length
250 mm
600 mm
Max product dimensions
Ø 39 mm
Ø 79 mm
Belt width
50 mm
100 mm
Pulling force
(depending on the maximum speed)
250 N
400 N (1 Motor)
800 N (2 Motors)
Max. Conveyor speed
100 m/min
300 m/min
Max. cutting frequency by one blade
4000 1/min
Cutting lengths resolution
0,1 mm
Transport and cutting drive
Servo-Motors
Electrical connection power
3,2 kW
3,5 kW
4,8 kW
Dimensions (L x H x W)
1250 x 1420 x 650 mm
1900 x 1650 x 960 mm
Weight
ca. 210 kg
ca. 580 kg
Option: User management
X
Option: Recipe management
X
Option: Can be integrated into line control
X
All machines from Maschinenbau Bardowick GmbH comply with the EC Machinery Directive (2006/42/EC).
Request your new combined cutting system CC now
Ask now for your new Combi Cutter CC!
At Maschinenbau Bardowick GmbH, your specialized manufacturer for extrusion downstream equipment, you will receive the best technical advice for your application.
Benefit from 25 years of experience in the design of extrusion downstream equipment for the rubber and plastics industry!
p>We will be pleased to consult you! Send us your inquiry to
sales@mb-bardowick.de
or call us directly:
+49 4131 6033-33
!